Your conference hosts, led by Lauren Libby WØLD and his wife June, were Ken Wyatt WA6TTY, Ken Anderson WØETT, Doug Wilson WAØVSL, and Ray Uberecken AAØL. They worked hard to put on a conference filled with interesting ham and family events. The beauty of their hometown was easy to see. Pleasant weather blessed the entire event.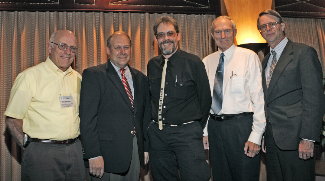 photo ©2005 Ken Wyatt WA6TTY
AAØL, WØLD, WAØVSL, WØETT, and WA6TTY

Most of the pictures on the following pages were taken by Ken Wyatt WA6TTY.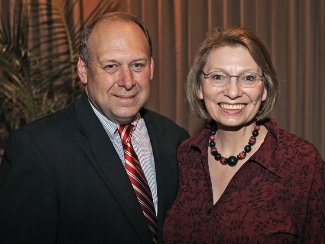 photo ©2005 Ken Wyatt WA6TTY
President Lauren Libby WØLD and wife, June Libby

Take a look at the following pages and be reminded of either the fun you had if you attended or what you missed if you weren't there. Make a point to catch the next conference. Perhaps we'll see you in Bloomington, MN on July 27-30, 2006.