2013 MNQP
2014 MNQP
2015 MNQP 2016 MNQP
2017 MNQP
We were successful in getting the weekend off from work. In the weeks leading up to the event, we enjoyed looking at maps to come up with a plan for this year.
We developed a plan to activate 7 counties starting out in western Minnesota near Appleton, MN (Swift County) and working eastward towards the Twin Cities ending in Wright County. Along the way we would also activate Lac qui Parle, Yellow Medicine, Chippewa, Kandiyoi and Meeker Counties.
Friday around 1pm, we hopped in the car and drove out to Montevideo, MN to "pre" locate for the contest. We drove out on US 212 and enjoyed the drive.
We stayed at the GrandStay Hotel and Suites. It's probably the nicest place in town but unfortunately expensive. Once we were checked in at the hotel, we headed downtown looking for food and, instead, found beverage! We found Talking Waters Brewing right on the main street in "downtown". They always have 8 beers on tap brewed right in their own basement. We each got a flight of samplers and enjoyed the variety. They don't serve food, but the Pizza restaurant next door is glad to walk pizzas over for delivery. We really liked the vibe--tasty beers and good conversation! If you are out in Montevideo for MNQP or any other reason, you really should stop by Talking Waters Brewing and check it out.
Not really in the mood for pizza, we headed out to
Duffy's
about 2 miles southeast of town and had ribs and steak that we each enjoyed.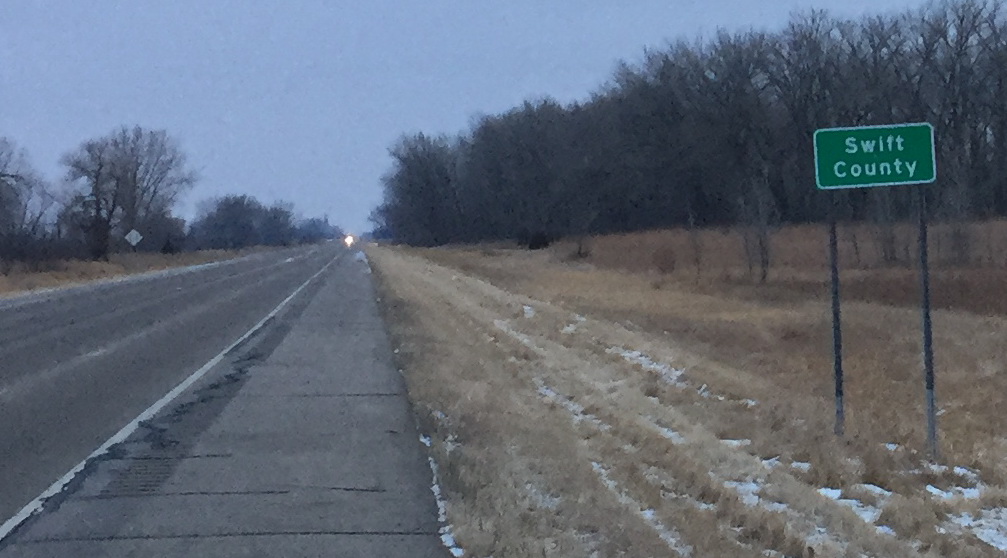 Our hotel was about 30 minutes from our first operating location. We hit the road and got to our first spot at the Appleton, MN airport for Swift County with just enough time to take a picture and then get in the car and start operating.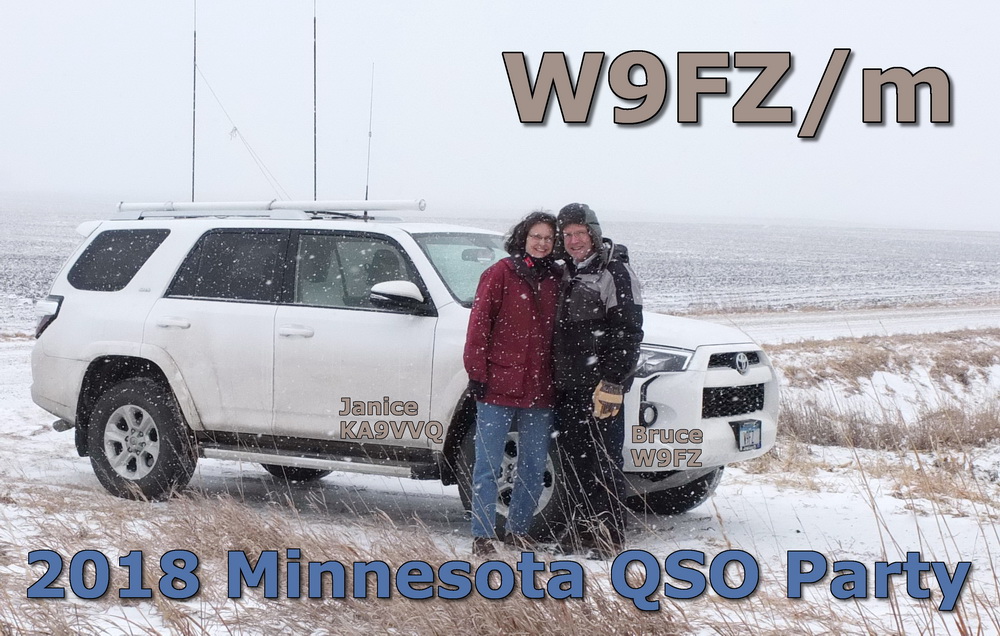 Here is the special QSL card we will send out this year. We make a small "limited edition" printing run.
We upload to LOTW. We build locations in each of the counties that we operate. We sign our logs as W9FZ, W9FZ/m, and as W9FZ/XXX. Looking in LOTW, of the 278 QSOs, I see 116 QSL'd QSOs. 58 to W9FZ, 46 to W9FZ/m, and 12 to W9FZ/XXX.
Please know that we will gladly QSL any of our QSO's (and we'll probably send your SASE back to you).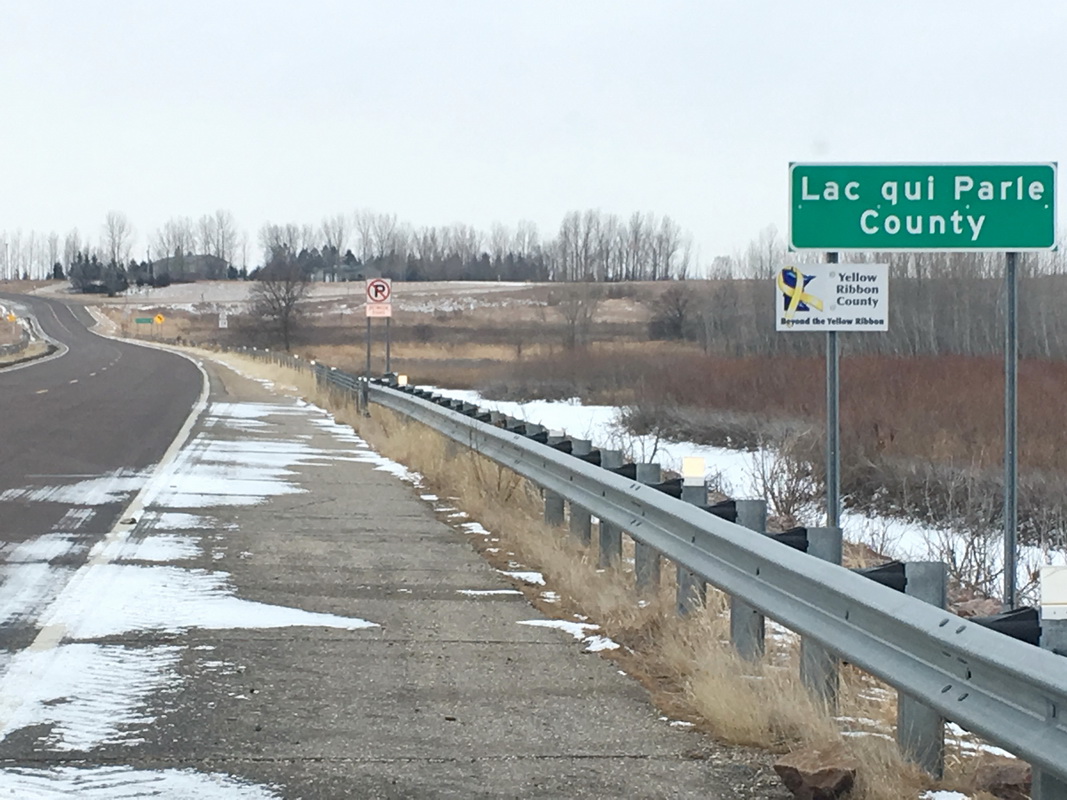 Like past years, we focused mainly on 20m SSB. We find that with a hamstick and 100 watts we can hold a frequency and seem to be heard well enough in most parts of the country. Since we don't care about score, we don't go looking for in-state mults on 40 or 80 and are satisfied to work the world on 20m.
From three counties, we were found by: AG7AA, K0OE, K7XE, N7JPF, NU1O, and W7GKF.
From four counties we were found by: K5WAF, K7SEN, K7YMA, and OM2VL.
From five counties we were found by: K2RYD, N8II, and WA1SAY.
And our STARs this year were K1RO and W1KDA for finding us in six counties! Thanks Mark and Ron!
Each year a few stations call us from overseas. Special mention must be made of Laci OM2VL who each year follows us through the different counties all the way from the Slovak Republic.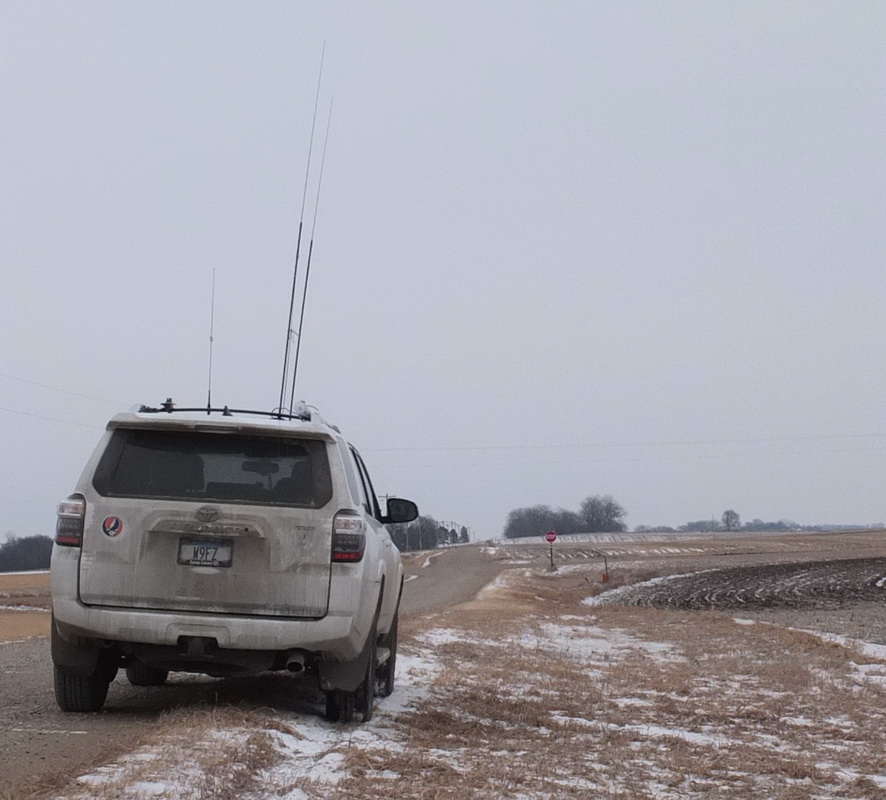 MN QSO PARTY Summary Sheet       

    CallSign Used : W9FZ
      Operator(s) : W9FZ KA9VVQ

Operator Category : MULTI-OP Mobile
             Band : ALL
            Power : LOW
             Mode : SSB
 Default Exchange : JAN MN
     ARRL Section : MN
        Club/Team : Northern Lights Radio Society
 

        Band    QSOs     Pts   Mul
		  
	 7	 1	   2  
         14      277     554   
		  
	 Total   278     556    37    20,572

            
Again this year, the weather was actually pretty mild. Very little snow depth out in western Minnesota made finding parking spots easy. Temperature was in the upper 20s. Sure, it snowed for about two hours during the contest but it looked pretty. The drive home, after the contest was over, was typical winter driving conditions so took it easy.
Q's per county:

SWI  29
LAC  31
YEL  30
CHP  60
KND  42
MEE  59
WRI  27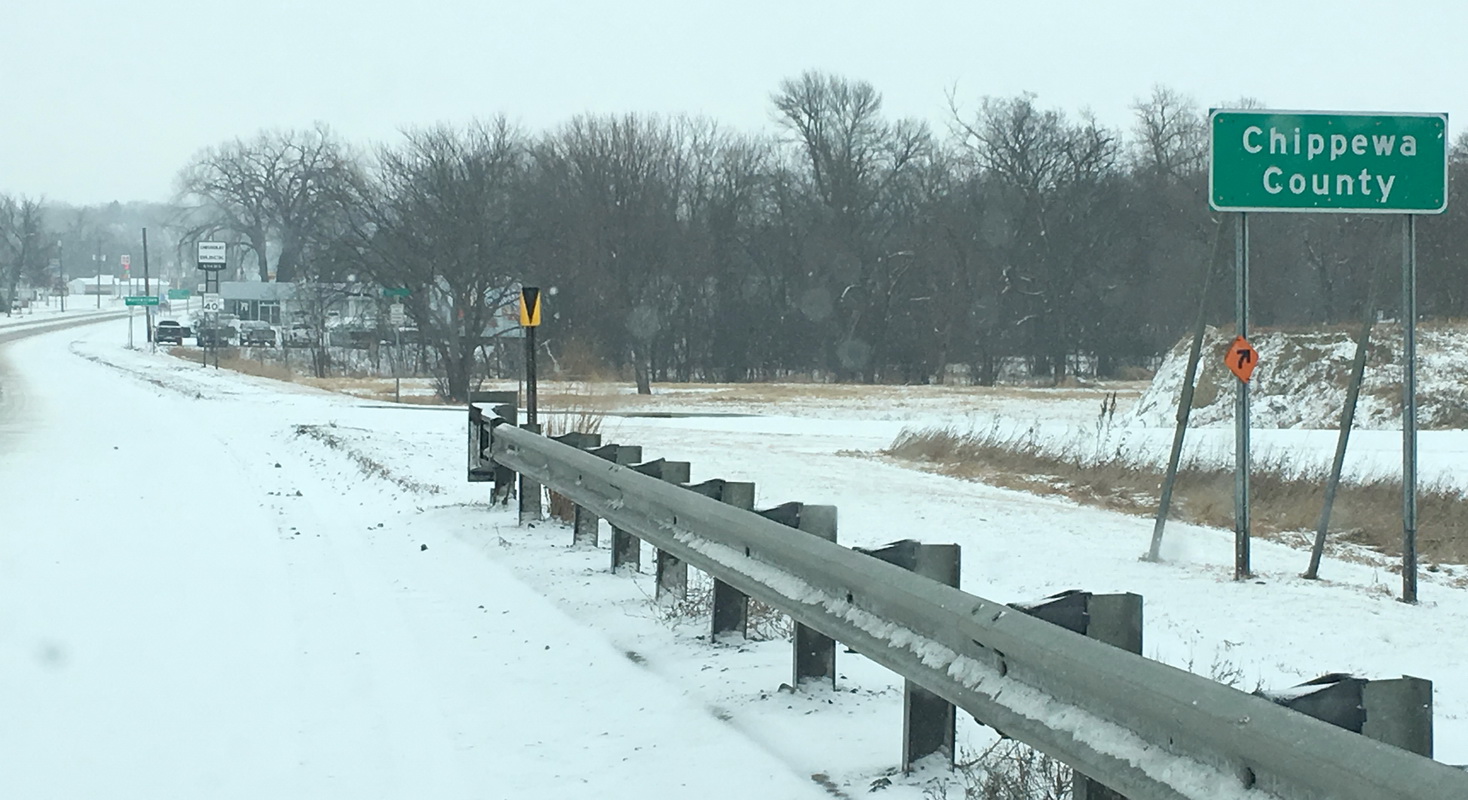 Lunch was at Subway in Montevideo. Nice to let our ears and voice rest a bit. We don't operate while we drive. We both get to look out the window and enjoy the countryside.
For antennas, we primarily use a mag-mount hamstick on 20m. We strap to the roof rack a 3" PVC pipe with end caps to carry many other hamsticks. We tried 15m a few times and found nothing this year. We also tried 40m once for a few minutes in our last county and found that the band had gone long.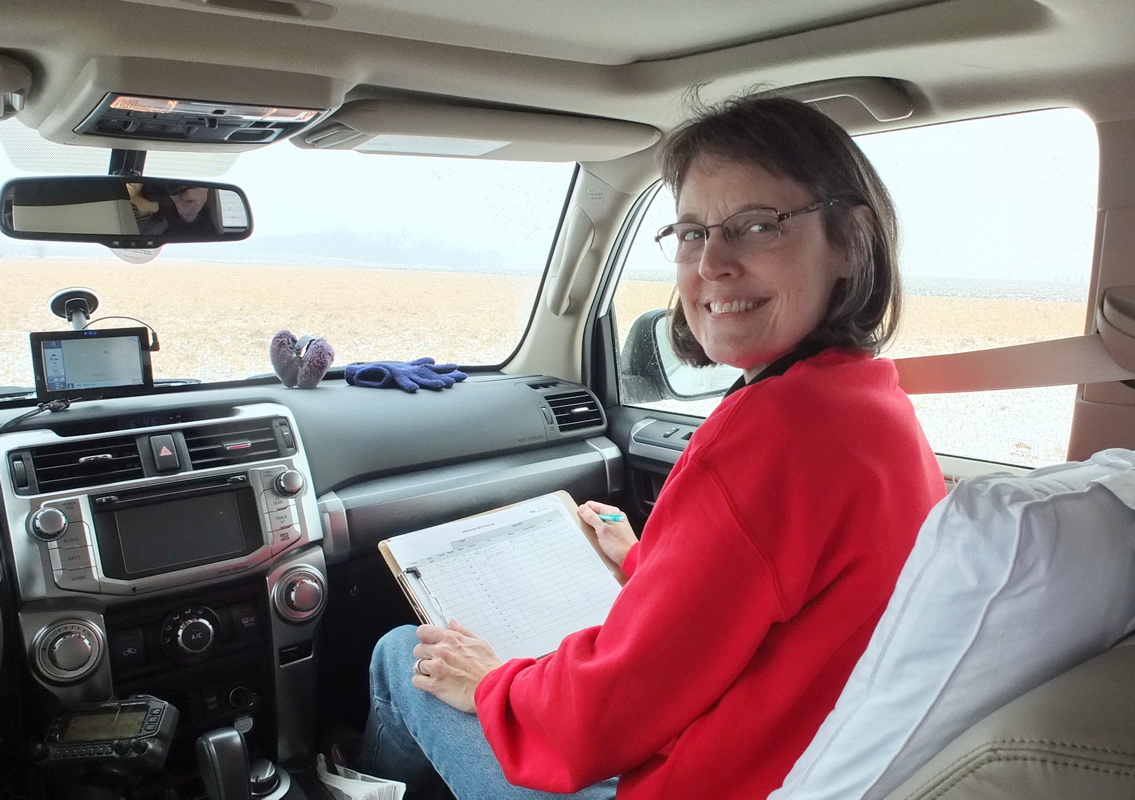 I've included all the pictures of the county signs so you can get an idea of the terrain, weather conditions, and countryside. Some may say "how plain" or "how ugly" but we see a lot of beauty along the way.
Another highlight was our many contacts with YL hams like Salli K2RYD and Sandy WA1SAY--it was nice to hear their voices in the pile-ups. We operate about 45 minutes in a county. There are small pile-ups--sometimes 3 or 4 deep--during our time CQ'ing. Also there are lulls where we will CQ for nearly 3 to 5 minutes to "no takers".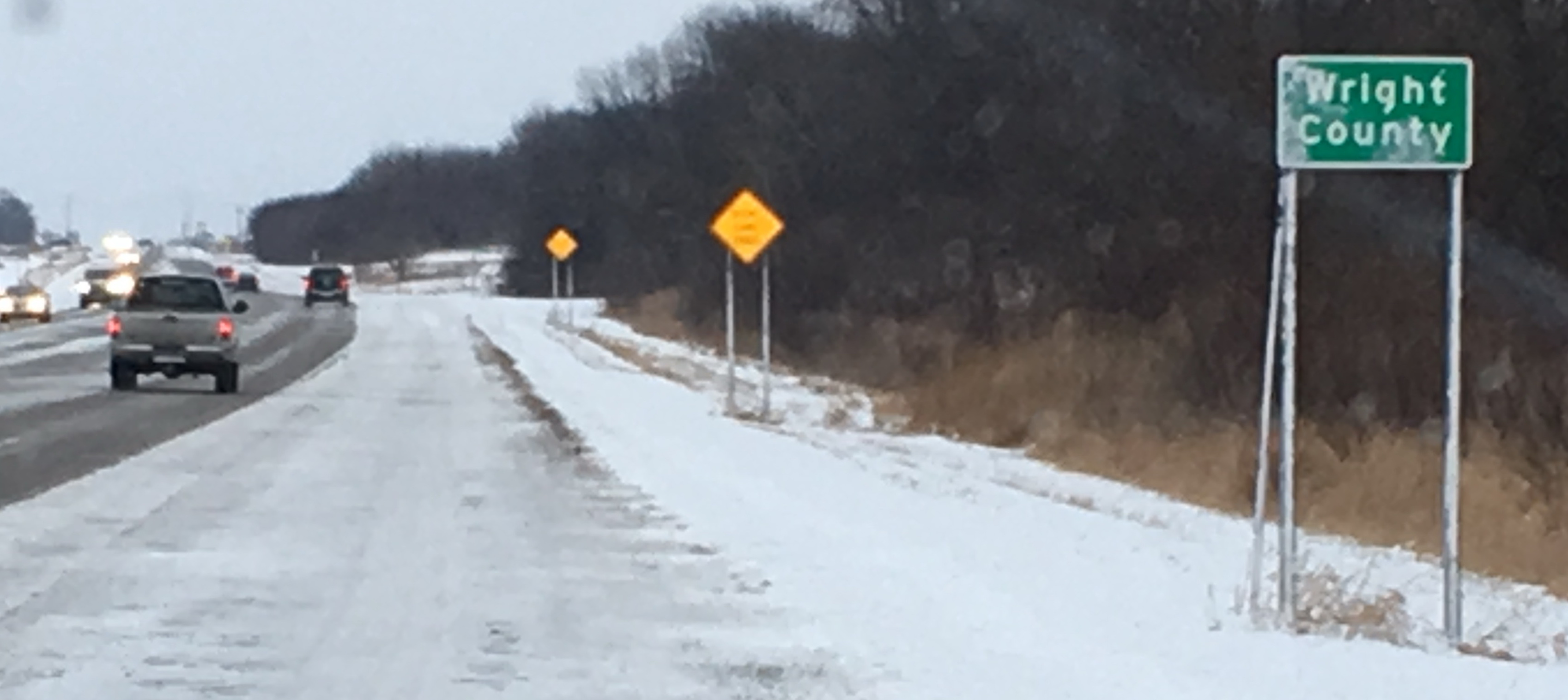 Our last county for the day was Wright County. We operated about 3 miles NW of Cokado. 20m went dead for a few minutes so we jumped to 40m. We CQ'd and CQ'd and finally got a response from Georgia. Turns out the band had gone long and there was European broadcast interference. We jumped back to 20m and the band recovered a bit. Some years, this late in the day, there are only west coast contacts. But this year we still worked a few east coast stations that were still looking for us. Notice how it's starting to get dark in the second picture. This is right after the contest ended.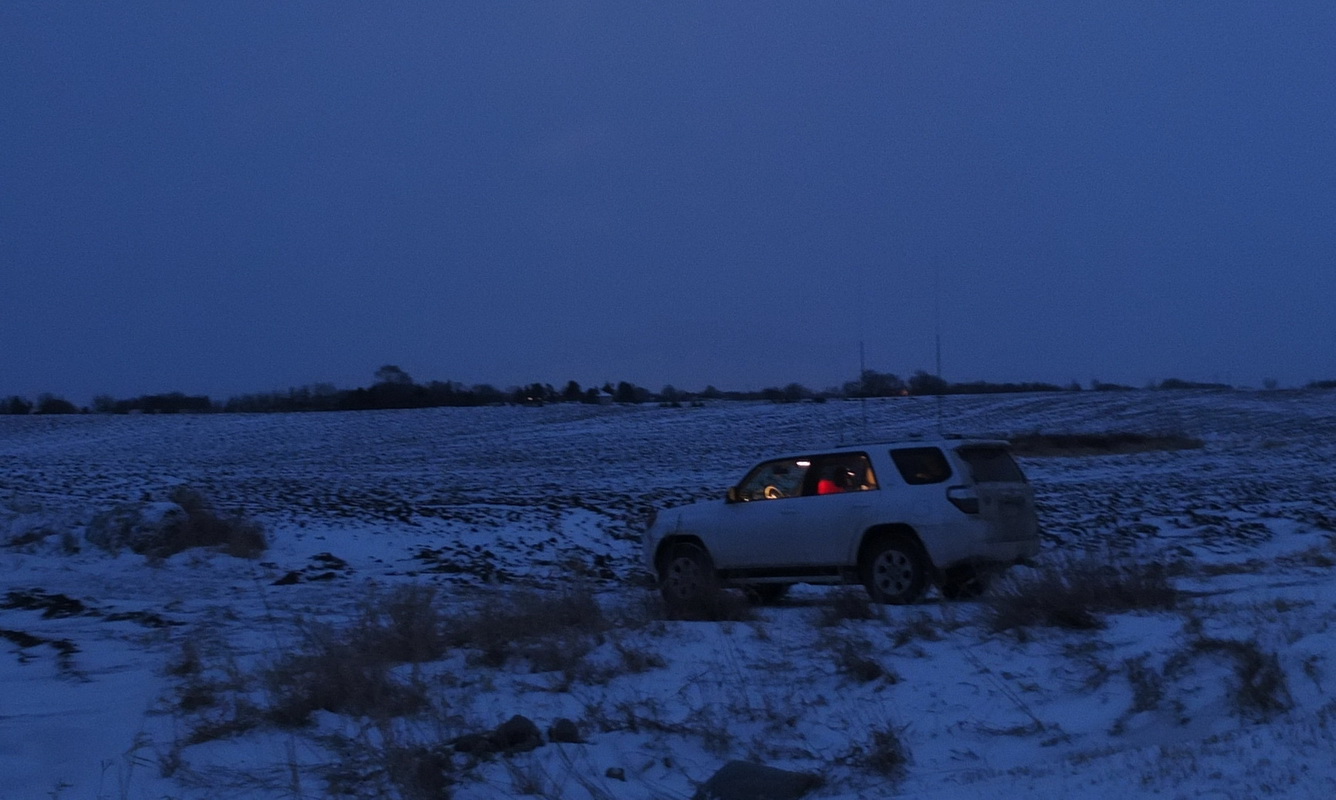 We noticed that Winsted was not very far away and on the way home. On previous MNQP and VHF roves, when we've been near Winsted, we've made a point to stop at "V's Grill" for broasted chicken. All-you-can-eat for $10 is tough to beat! So with the MNQP over, we headed south to Winsted and a post-contest dinner. If you are ever out that way, we encourage you to check it out.
Another fine MNQP! Thanks to all the stations who found us and worked us.
If you would like a QSL card, just let us know. See you in just under a year! Bruce W9FZ and Janice KA9VVQ