Front row: Dave Hupke, Brian Adamson, Scott Flexman, Scott Eiser, Dan Sneller, Kevin Hickson, Tom Trotter, Robb Flexman, Matt Sneller, Ernie Flexman and Katie Hancock.
Middle row: Gerry Dashnier, Dick Dutcher, Ruth Dutcher, Scott Goodman, Randy Schneider, Gary Goodman, John Tooley, Sue Hancock, Marty Hancock, Mrs. Flexman, Bill Flexman, Bob Black
Back row: Dave Melnick, Pete Kornowske, Chris Jacisin, Duane Collicott, Jon Iltis, Steve Novak, Brian Daum, Bill Zander, Mike Feltes, Tom Bang, Matt Farmer, Todd Wittlief, Eric Hanson, Bruce Richardson, Joel Young.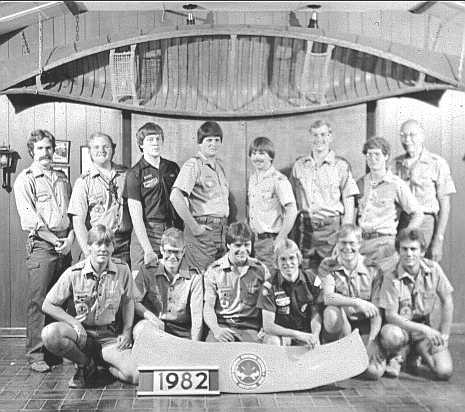 Training Staff:
Front Row: Tom Bang, Pete Kornowske, ?Eric Hanson?, Dave Hupke, Duane Collicott, Chris Jacisin
Back Row: Jon Iltis, Todd Wittlief, Mike Feltes, Joel Young, Steve Novak, Bill Zander, Brian Daum, Ernie Schmidt
A memory from Chris Jacisin:
My first crew...
My first group when I started as a Party Trainer was quite memorable and provided a bit of humility which will undoubtedly be used against me by my opponent if I ever run for President.
The crew was 24 people as opposed to the standard maximum size of 12. Add to that it was my first time teaching as a Party trainer and was very nervous. I covered all the material as best I could and made sure they would be fine on the trail. We setup camp the first night on the trail. The next morning the base came to the pickup point and took me to back to the base after we picked up a few more Trainers and stopped for the obligatory donuts. As I was walking to my room from the parking lot I heard a loud "Hi Chris" from the office steps. There was my crew! How the... What the...? They beat me back to base! It turns out they had not bothered to read the map and had paddled to a small lake far south of their destination. They did however end up near the base, less than 1 mile, and simply walked over.
A few weeks later I got a letter from the Scout Master thanking me for a wonderful trip and included a newspaper clipping with the title "Even Boy Scouts get lost"! There was our crew picture, a story about their misadventure, and my name with the title "Guide". Thereafter, I endeavored to get better.